"I like two things: helping people and competition," CJ Hutsenpiller, owner of Hutsenpiller Insurance in Mount Juliet, Tennessee says. Luckily, the insurance industry gives Hutsenpiller an arena in which to indulge in his competitive spirit and support people when they need it the most.
Combining technology, process and industry expertise, Hutsenpiller is revolutionizing customer service and driving the industry forward with curated client experiences.


Competitive spirit
Hutsenpiller describes himself as "drastically competitive," and enjoys gamifying nearly everything in the agency, from lead generation campaigns to customer service ratings. With bragging rights on the line, this good natured competition among the agents has successfully driven the business forward.
"Everything is set up in a process, complete with metrics: Who generated the most leads? Who sold the most policies? Who has the highest customer service ratings for the month? We get the most excited about beating out team members."
At the same time, Hutsenpiller doesn't let his competitive nature get in the way of his biggest drivers: his team and clients. What makes clients flock to the agency (and the agents at Hutsenpiller Insurance) is the agents' shared desire to help people prepare for the worst day of their lives—and to be there when the worst happens.
"If you're able to help your clients and make their lives better, impact the community, their families and your team…that's success. And that's the sign of a good independent insurance agent." And when it all comes down to it, that's what the agents at Hutsenpiller Insurance—including its owner—are competing to be the best at.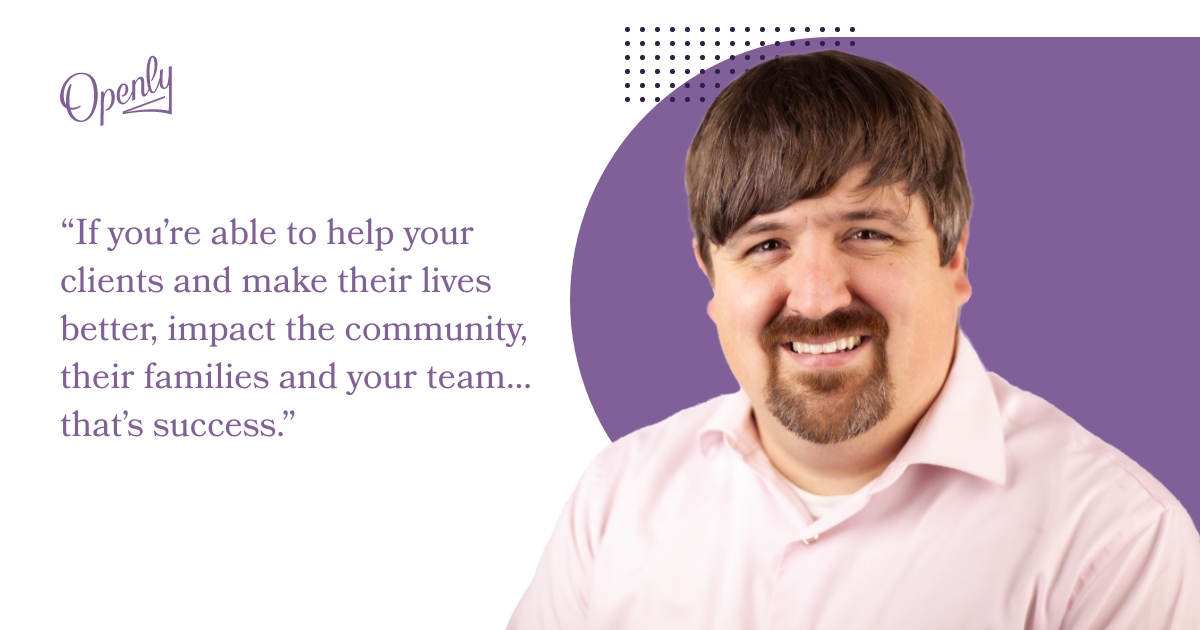 Tech-forward customer service
Nearly every process at Hutsenpiller Insurance is backed by technology. Hutsenpiller's commitment to supporting clients through the use of impactful technology—and not technology for the sake of technology—is what gives Hutsenpiller Insurance a competitive advantage.
"We're the agency where the convenience of online shopping meets the security of having an insurance professional." In a nutshell, he aims to meet the customer where they want to be met, and not force them into a box.
"Every agency in the country says they provide 'good customer service'. But customers are not all the same, so how can we provide an experience that is good for all of them?"
From chatbots to automated text messages, Hutsenpiller has ensured that clients can always get what they need from the agency, even if it's after hours.
By focusing on creating a customer experience that clients have come to expect, the agency has flourished. His focus on the client experience has also had a two-fold benefit: directly addressing the preconceptions many people have about the insurance industry, and highlighting the agency's dedication to their clients.
"Selling home insurance is easy; making sure customers are taken care of is a harder feat. Car accidents, storms, flooding, those will be in their lives forever. What separates us, is the ability to have the local touch, the relationship."
One piece of technology Hutsenpiller uses at the agency enables the agents to proactively be there for clients. "We use weather technology. When a major storm system comes through, we already have clients mapped out. We can overlay the weather system on that client map and determine which of our customers will be affected. We text them: 'I saw a storm close to you. Are you ok?' We create these customized experiences that you can't get elsewhere. And we make sure to knock that customer service out of the park."


The artificial intelligence debate
Hutsenpiller believes artificial intelligence is an asset to the insurance industry—and not something to fear.
"If companies start using AI to eliminate agents or anything like that, the only ones who are going to be affected are the people who aren't doing a good job to begin with," Hutsenpiller says. "The independent insurance agent will always have a place in the market because there are always going to be people who don't understand insurance, and who aren't taking the time to learn it. That's where we step in and become the resource."
In fact, Hutsenpiller is excited about the changes and advancements artificial intelligence brings to the industry. "On the day ChatGPT came out, I was like, 'I'm on this!' Now, we use ChatGPT as a backup for the live chat on our site, so if we aren't available, you can still get answers."
For Hutsenpiller, the bigger play, however, is around content creation. "I use ChatGPT for scaled-up content creation. This is where agents don't traditionally do a good job."
Hutsenpiller focuses on creating new content—specifically new blogs that can become resources for clients—using a four-question prompt. "We're able to create 12 blog posts a day that we can use on LinkedIn, Facebook, and our website. Can you tell they were written by A.I.? Yes. But are they getting information out to consumers? Also, yes."


Service and technology, the perfect match
Hutsenpiller's ultimate goal is to move the industry forward—and through his commitment to customer service and use of technology, he is able to do just that.
He says he can't remember the last time a client actually came into the office; a testament to the customer experience he and his team have developed, and that technology has enabled them to provide, digitally. By embracing the constantly evolving technology ecosystem, Hutsenpiller ensures Hutsenpiller Insurance's clients will always receive a seamless insurance experience.