It's an exciting time here at Openly.
We're experiencing great success in many areas of our business this year. Personally, I'm thrilled to see the continuous transformation and improvement of every aspect of our business by the entire Openly team on a daily basis.
We recently concluded our Series D $100 million venture raise from both existing and new partners, with the notable addition of Eden Venture Partners, participating. This demonstrates the confidence external capital markets have in our bright future despite what is considered the hardest insurance market in over 40 years.
It's essential that we recognize that partnerships are the cornerstone of our success. In this spirit, I'm thrilled to share the insights and progress from our recent Agency Council of Excellence (ACE) meeting that took place this October. In addition to having open discussions on how we can improve together, we enjoyed the opportunity to build rapport with our ACE partners—both in meetings, and outside of the conference room.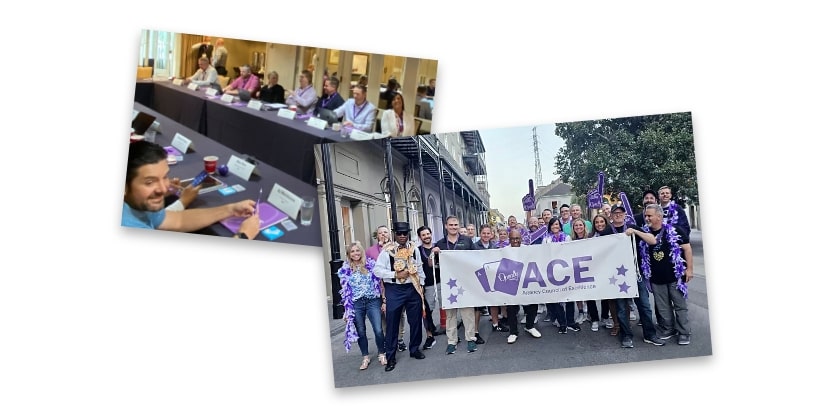 What is ACE?
The ACE Council is composed of representatives from our independent agency partners. It provides an opportunity for some of our premier agency partners to give feedback and make recommendations regarding the direction of Openly and the product suite we deliver. Collectively, we're navigating the challenges of the current insurance landscape.
More than 35 items were raised in 2022, and we've made strong progress in addressing the vast majority of these action items. The Council's commitment to excellence aligns seamlessly with our company values, forming the foundation of our successful collaboration and shaping our shared vision. Some of the key items we were able to act on include:
Creation of consumer and agent resources (Why Openly, For Consumers; Appetite Guide & Coverage Highlights; The Openly Claims Difference)


Improved self-service capabilities (Parties Change endorsements; eFNOL process)


Agent incentives and co-op marketing opportunities


Tightening the Openly appointment process to identify quality partnerships


Providing trusted local contractor recommendations


Improved communication to agents of coverage denials



Highlights from ACE 2023
The Council identified several opportunities for improvement and made a number of recommendations for strengthening our agency partnerships.
Highlights include:
The current market is extremely difficult and has been hard on agencies and their teams. We need to approach every conversation and every interaction with empathy and understanding.





Openly provides exceptional value in the agent experience, but we can do a better job of highlighting this through continued reinforcement of our user-friendly platform for agents, comprehensive policy coverages, and excellent claims experience.





Discussions reaffirmed that our overall strategy is clear, sensible, and the right one. Effective communication of this strategy will be pivotal in differentiating Openly from the competition, ensuring our partners understand our shared vision.





Our Agency Success team can be better leveraged to provide consistent support across all markets. Strengthening this support system ensures our partners have the assistance they need to thrive.





Enhancing data sharing consistency with our agency partners will foster collaboration and mutual support, aligning with our commitment to improving communication and strengthening partnerships.




Dissenting opinions aren't just welcomed; they're celebrated. These perspectives lead to valuable conversations, enabling us to approach internal actions from different angles and enrich our decision-making process.


Strength through collaboration
Openly's position as a truly innovative company with superior coverages and unmatched user experiences differentiates us significantly. Given the disruptive state of the industry, we have an amazing opportunity to continue pursuing our goals; viewing challenges as opportunities, and embracing them with enthusiasm and resilience.
As we continue to execute our plans for 2024, I encourage all of our agency partners to engage with their dedicated Agency Success Manager. These discussions aren't just about the present; they are an opportunity to discuss how we can support you and your business, and build a future where our partnerships thrive.
To learn more and engage with our ACE partners, be on the lookout for information regarding upcoming state webinars! And stay tuned for even more updates and exciting developments from Openly, your trusted insurance partner.