The insurance industry is a challenging one to conduct business in. It's in a continuously evolving state, where the complexities of pricing and underwriting are under considerable scrutiny and stringent regulations at all times.
Openly, a provider of high-value home insurance sold exclusively through independent agents has emerged as a trailblazer, redefining the norms of the industry by striking a delicate balance between its underwriting philosophy, pricing philosophy, and product offerings. It's a tightrope walk that Openly has mastered.
Openly's approach to insurance isn't just innovative; it's a paradigm shift and a testament to their commitment to understanding customers' needs and leveraging data to refine—and maintain—agile underwriting and pricing strategies.
I sat down with Openly's Chief Insurance Product Officer, Grant Owens, to discuss how Openly's unique approach to underwriting and its commitment to transparency empowers both homeowners and insurance agents alike.


Tailored coverage for the modern homeowner
As Owens says: "You can't talk about Openly's data-driven approach to insurance without understanding its product."
Openly's core practices revolve around understanding the diverse needs of policyholders. Unlike traditional insurance providers, Openly doesn't follow a one-size-fits-all approach. Instead, Openly examines the specifics of each policyholder, ensuring policies protect a homeowners' life appropriately.
Focusing on what is commonly referred to as "the mass affluent market", Openly's target market comprises homeowners with larger, newer homes and specific needs for broader coverage.
"These homeowners typically have homes and contents that require some sort of special policy customization," says Owens. "Maybe there's custom finishings, personal collections, or a desire for higher liability limits. Our base contracts are designed to enhance standard limits and add in coverages that a lot of homeowners don't necessarily understand, but are a value-add for these particular customers."
Identifying (and filling) a gap in the industry, as well as understanding policyholder needs, has helped mold Openly's underwriting philosophy and how risks are evaluated; what types of homes fit their niche, and providing for risks that align with their core product. "How we price and underwrite is a dynamic and quantitative approach, where every environment is approached differently," says Owens.
Openly's commitment to transparency about its products translates into its underwriting practices in profound ways. The company's clear communication of its underwriting appetite, ideal rebuild costs, and the specific market it caters to establishes a transparent foundation for both homeowners and the agents that represent them.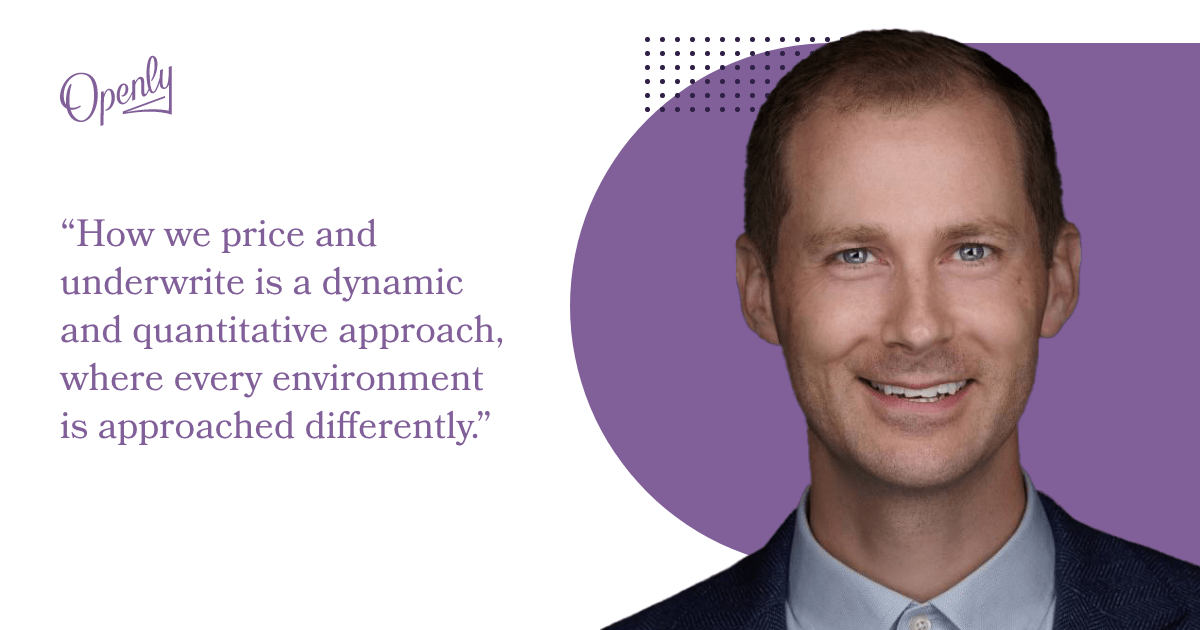 Agility in underwriting
Openly's success isn't just about offering the right coverage to homeowners; it's about how underwriting and pricing are approached. The company's underwriting philosophy is deeply rooted in agility, innovation, and most importantly, precision.
"The industry as a whole struggles with making fast decisions, mainly because it has historically relied almost exclusively on human underwriters. Openly has human underwriters as well, but we also utilize algorithmic underwriting. We use data to guide underwriting decisions and leverage a vast array of data sources," Owens says.
Openly starts by analyzing a plethora of data points, ranging from roof materials to prior claims, structures, location, and customer data. That data is then supplemented with aerial imagery and modeling data, often within a mere 15 seconds. "This structure allows Openly to be extremely nimble. We can react to changes in the market, to new data, quickly," Owens states.


Adapting to changing tides
The insurance landscape has undergone significant changes over the past several years, with a significant rise in rebuild costs nationwide since 2019, coupled with unpredictable weather patterns.
Openly not only keeps pace with these trends but has also pioneered the integration of new data into underwriting and pricing strategies. Owens explains:



"We've seen fundamental costs to insure a home increase because the impact of weather across the country has risen. The rapidly evolving reinsurance market has also forced every insurance carrier to adapt to these new conditions in different ways. So Openly is not unique in having to respond to this changing landscape, but we believe our data-driven approach is unique—leveraging finely-tuned rebuild cost estimates, precise and disciplined underwriting, and a constant focus on rate adequacy."
This approach to rate adequacy extends beyond mere cost adjustments. Openly's pricing philosophy hinges on granularity, a concept that many insurance providers struggle to evaluate and implement effectively.
By augmenting records-based data with claims data, Openly has created an environment where it can be as segmented as possible and can make granular adjustments, tailoring pricing changes to specific areas of its customer base. This nuanced approach ensures policy premium adjustments are not uniform across all policyholders for fair and personalized pricing that reflects the actual risks and rebuild costs involved.
"This ultimately benefits both our policyholders and our agency partners. Most carriers might focus solely on rising costs across the board, but because our product is based on rate segmentation levers, we've been conscious about ensuring the product we brought to market is flexible. Once we factor in claims data—our own robust claims data—we can adjust how we are pricing policies."
Openly's ability to adapt to market changes, proactively address challenges, and tailor offerings to individual policyholders has reshaped insurance. "Some changes come in the form of the costs of insurance—which is rising everywhere—and where we can find the right level of differentiation. For us, that is data plus product plus segmentation," says Owens.
It's an equation that Openly has incorporated into its ethos, and how the insurance provider continues to pioneer new pathways; homeowners and agents can rest assured that they're in trustworthy, capable hands.


Where innovation meets integrity
Owens states that, at its core, Openly's product remains the same as it has always been: "It's evolved, but we haven't pivoted. We've honed it. Data allows us to make decisions quickly and get better at rate segmentation. We've been focused on this concept since we launched."
Openly's data-driven underwriting philosophy represents a watershed moment in the insurance industry. By combining meticulous underwriting, innovative use of data, and a customer-centric approach, Openly has not only leveled the playing field but also set new standards for what insurance providers can achieve.