The insurance industry is a dynamic and ever-evolving landscape which makes staying competitive and adapting to industry shifts all the more important.
Enter Firefly Agency, an agent network with over 200 locations, dedicated to helping independent agents navigate the complexities of the insurance world successfully. By enabling access to top carriers, comprehensive support, and providing insight on how to run a business efficiently, Firefly empowers agents to grow profitably and build modern agencies.
In this agency spotlight interview, Firefly Agency's Ben Griffioen, Partner and VP of Marketing, delves into Firefly's journey, its unique business approach, and what sets them apart in the competitive insurance industry.


The early days and transformation
Firefly's story began in 2005 when a group of formerly captive agents came together with a vision to create an independent agency. Their goal was to offer personalized service and build relationships with carriers beyond what a captive arrangement allowed.
"It didn't take long for proof of concept to emerge," says Griffioen. "It segued into building relationships with large, likeminded carriers. And suddenly it was like, 'Holy cow! We have a service here!' So on top of being an agency, Firefly developed its core offerings and began supporting other agents in growing their agencies."
The transformation didn't come overnight. Firefly strategically evolved from selling insurance directly to focusing on assisting other agents in their growth. They recognized that while selling policies was important, helping agents build successful agencies was equally valuable.
One key initiative that has given Firefly an edge is its emphasis on marketing. By analyzing an agency's marketing strategy, Firefly determines whether or not an agency is a good fit for partnership, and if it's equipped to generate profitable business.
"Arguably the most important thing [when evaluating a potential agency partner] is the marketing plan. It's not only about how many quotes they are running, but what type. We tell agents, 'Hey, let's talk about your marketing plan. Where are your leads coming from, what limits of liability do they typically request, and what is your bundling percentage?' We'll tell you what carriers want, and we'll discuss if agents can get the prospects to line up with carrier appetites. Growing, and more importantly—growing profitably—is key. The real, in-depth conversations that we have help everybody."
Firefly also emphasizes to agencies the need for adaptability in the insurance industry. They understand that agents who are stuck in their ways and resistant to change may struggle to keep up with evolving customer needs. "I wouldn't say the conversations are easy, but it becomes known rather quickly if an agent will be open to changing their way of doing business, or if they'll keep doing the things they've always done, and getting the results they've always gotten," says Griffioen.
Firefly helps agents expand their cross-selling capabilities, enabling independent agents to provide a wider range of services to their clients, leading to increased customer satisfaction and long-term success.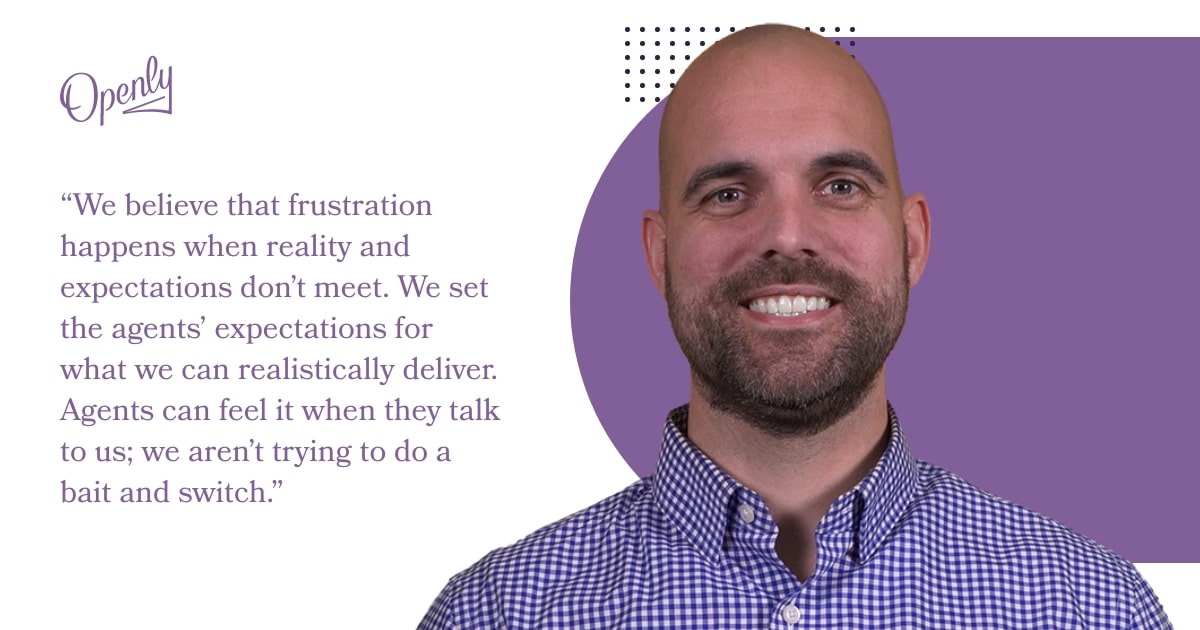 The power of transparent partnerships
One of Firefly's key strengths is their strategic partnerships with carriers that align with Firefly's unique operating model.
"When it comes to carrier appointments, we look at what states they operate business in. We have just over 200 locations and 400 agents; we need carriers to have a decent footprint. We evaluate carriers as thoroughly as we evaluate agencies. Are they competitive and will we be able to grow? If we can't deliver on the promises to agents and policyholders because of high premiums, how competitive is that carrier really?"
Firefly works with carriers that are not only a good fit for their network, but that also offer agents a significant competitive advantage. "Openly is a great example; have good commissions, added benefits, and good premiums on top of it all," states Griffioen.
Additionally, Firefly's model revolves around their commitment to agents. Once an agent joins Firefly, they gain access to all carrier appointments and are equipped with the EZLynx platform. Firefly trains agents to quote every carrier every time, allowing them to choose the appropriate carrier based on value and coverage, enabling agents to avoid becoming overly reliant on a single carrier.
Transparency into carrier partnerships isn't the only way Firefly sets itself apart from the competition. One of the key differentiators for Firefly, is their willingness to be as transparent as possible with their agency partners, in terms of their own operating model.
"Oftentimes clusters are a bit secretive and have agents sign NDAs before discussing much substance. We send a PDF break-down on commissions, fees, book ownership, what you can expect, and carrier partnerships in each state before they even talk to us. We believe that frustration happens when reality and expectations don't meet. We set the agents' expectations for what we can realistically deliver. Agents can feel it when they talk to us; we aren't trying to do a bait and switch."
By creating a foundation of operational transparency, Firefly establishes trust and ensures that agents have a clear understanding of what to expect from their partnerships.


Looking ahead
As the insurance industry continues to evolve, Firefly remains committed to providing value to both agents and carriers, anticipating that advancements in technology will streamline workflows, enhance customer experiences, and drive efficiency across the industry.
"Processes and automations are going to be a way bigger part in the future of insurance. The industry has been long known to be slow to adapt. Where I see the industry going—and what agencies like Firefly need to know—is that as long as we can really offer value to the insurers, we will grow together."
By adapting to evolving industry trends and continuing to offer consulting and support services, Firefly's goal is to remain a reliable and innovative resource for agents looking to stay competitive and build modern agencies.